Why patch?
If your SMP player or CMS server seems to work fine, you might think why you need to use a patch?
CAYIN will release patches regularly not only to fix bugs but also enhance functions. Therefore, we encourage you to update your device to keep it up-to-date, stable and make the best use of all advanced functions.
Before getting started
All patches are available in CAYIN's Online Resources .There are three types of patches : Recommended, Optional and Upgrade. You can decide which patches you would like to apply, but we strongly suggest you update all recommended patches.
Please also beware of the suitable models and versions of products to which those patches should apply before you upload a patch.
Even though the patch will check the model and version by itself during uploading, you might still accidentally corrupt the system if you upload a patch to an incorrect product model and version.
NOTE : SMP player builds in the system recovery program. If you accidentally corrupt the system for any reason, please refer to Recover SMP System to Factory Settings for detailed instructions. The firmware and configurations will be restored to the factory default. Then, you can try to upload correct patches again.

For CMS servers, please contact CAYIN's sales representatives if you apply wrong patches to a CMS server and fail to boot.
Install an SMP or CMS patch
The installing procedures of SMP and CMS are the same. Please follow the steps below to install a patch.
STEP 1 : Log in Web Manager. Enter your username and password and select the language display for your user interface. Then, click Login .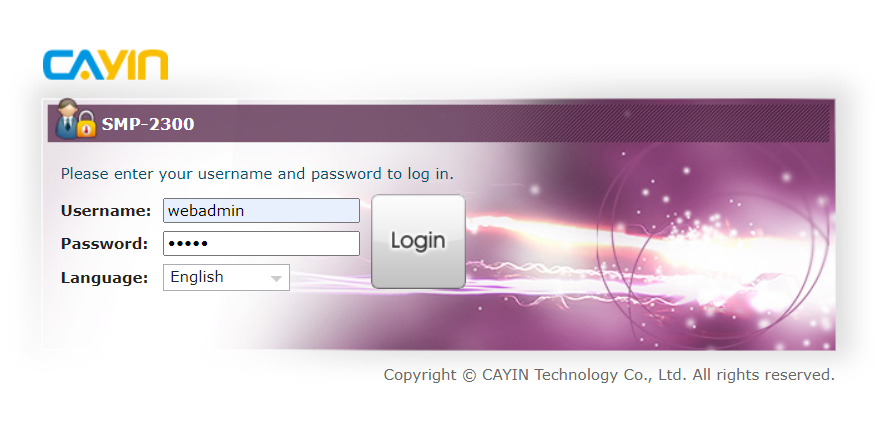 STEP 2 : After logging in Web Manager, select SYSTEM on the main menu. Then, locate the Patch section. In this table, you can view the information of all patches applied to this device.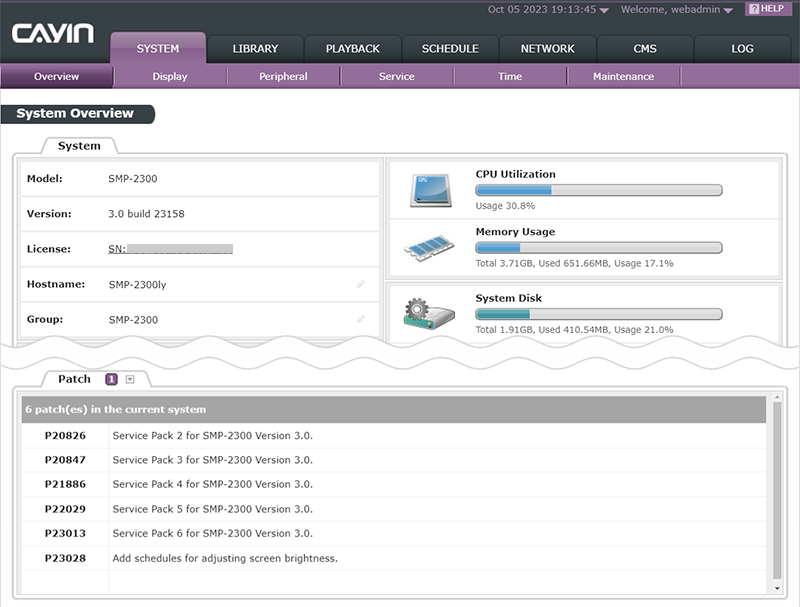 STEP 3 : When there are new patches for this device, you will see a number next to the Patch title. Click and you can use one of the following two methods to upload patches.

Upload patch :
Click Upload patch and a pop-up window will show up. Click Choose File to select the patch file you want to apply and click Upload. The extension of a firmware file is .psu. We suggest you update the firmware when your PC and the device are in the same LAN. Uploading patch from a PC is also recommended when the file size of the patch is large.

Online resources :
Click Online resources and you will see all available updates. There are two types of patches : Recommended and Optional. You can decide which patches you would like to apply. Move your mouse cursor over the Download button; then, you can choose to save the patch in your PC or apply to this device directly.


You will see the following dialogue when you select to download the patch file directly to the SMP player or CMS server:

STEP 4 : The system will restart after you upload a patch successfully. If you fail to upload the patch, please make sure that the firmware is used for this model and version of the device.
NOTE : Please only upload patches provided by CAYIN. Do not upload unknown firmware and damage the system. After uploading the patch files, you may see an incomplete Web Manager UI page due to browser cache issue. Please press Ctrl + F5 to refresh the web page. Alternatively, you can also clear your browsing cookies and cached files.
Install a Patch to Multiple SMP Players
CAYIN CMS-PRO advanced software provides the ability to install patches tomultiple SMP players. You need to prepare the following items before you can update patches.
More than one SMP-NEO series players, a CMS server, and CMS-PRO
STEP 1 : Log in Web Manager. Enter your username and password and select the language display for your user interface. Then, click Login.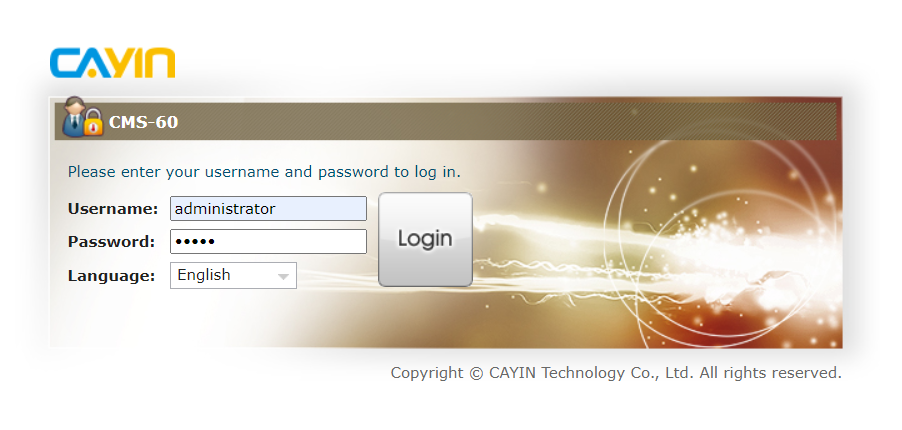 STEP 2 : After logging in Web Manager, select Player on the main menu and click Patch Management on the sub-menu; then, you will find the first section: Current State.
Check the current synchronization status and make sure it is Ready. If the system is not ready, you won't be able to upload, delete, or upload patches to SMP players on the user interface.

STEP 3 : Now, please move on to the third section: Patch File Sources.There are two ways to store SMP's patches in the CMS server:
Sync Patch from Online Resources :
Check Synchronize patches of these selected models automatically from Online Resource Server if you want this CMS download patches from CAYIN's server automatically.

This is a recommended option. Then choose synchronization time and models here. You can click the edit button to add or remove models. Then click Save to store your settings. If you want to trigger the synchronization immediately, please click Sync now button.
Upload Patch Manually :
You can also upload SMP's patch manually here if the CMS server doesn't synchronize automatically with Online Resource Server. Save .psu file to your PC and click Upload to upload it into this CMS server.

STEP 4 :
After storing patch files in the CMS server, please move on to the second section: Upload patch from CMS to SMP on the same page. In this table, you can see all available patches in the CMS server. Select one patch and click the upload button

.
Then, you will see atable listing all players which can apply this patch. Enable the checkbox to select those SMP players to which you are going to apply this patch.
After completing the selection, click Next to check the SMP list again. Then,click Upload to start uploading if everything is correct. The Result column will show the uploading progress by percentagefrom 0% to OK (100%). SMP will reboot while the system finishes the installation process.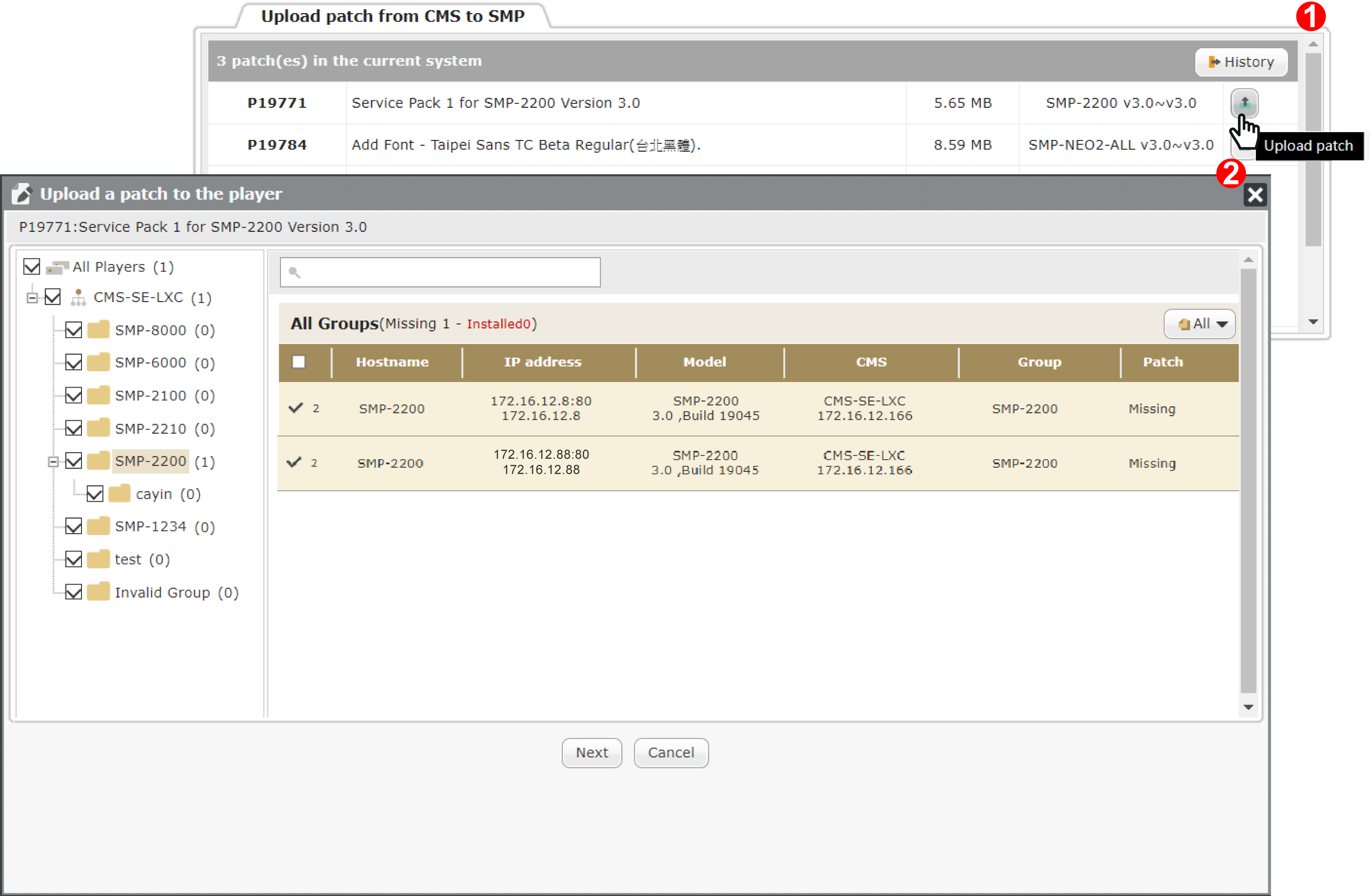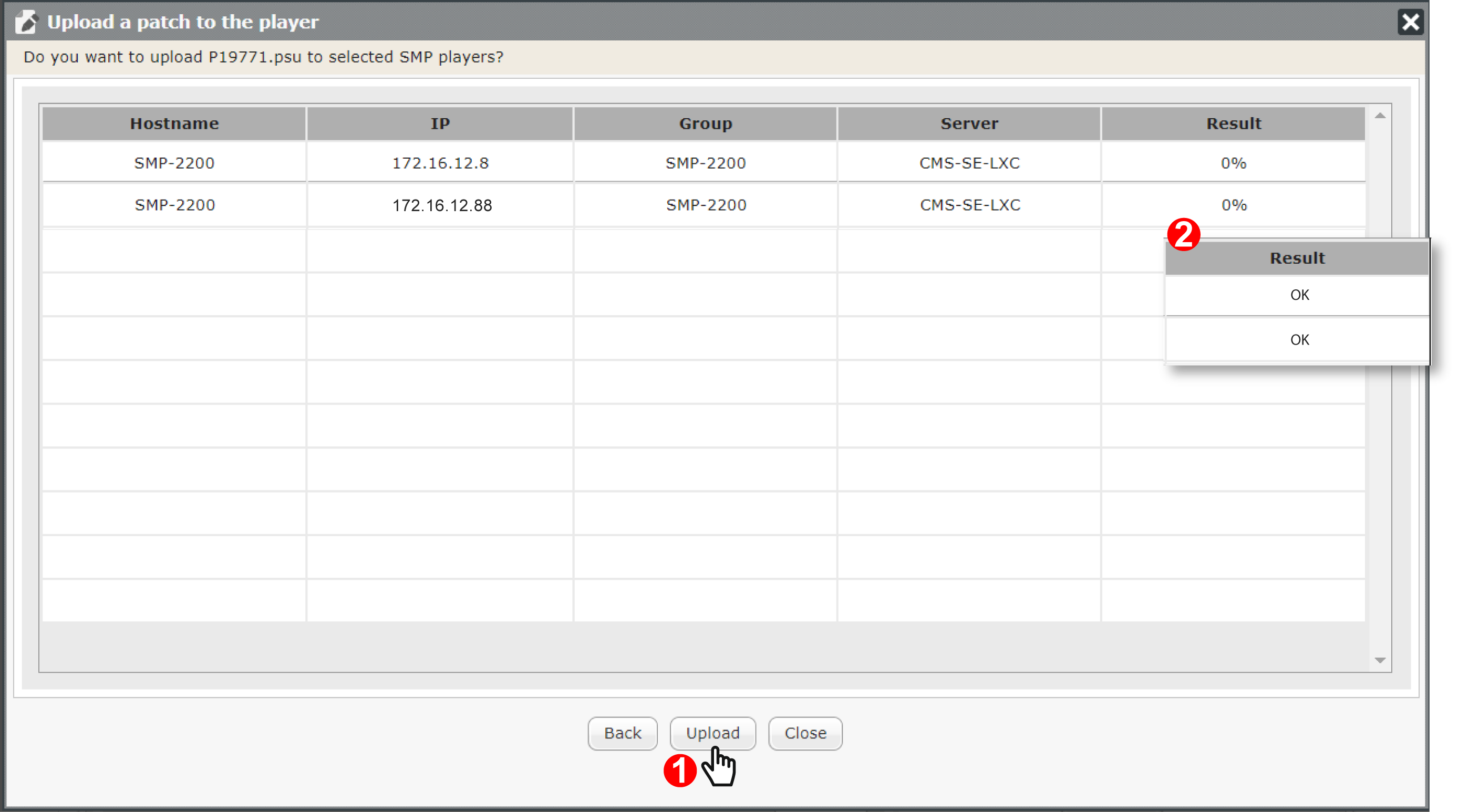 If you want to check patch update history, click History. Select a patch update record from the history list. Then, you can see the update status of all players which apply this selected patch.